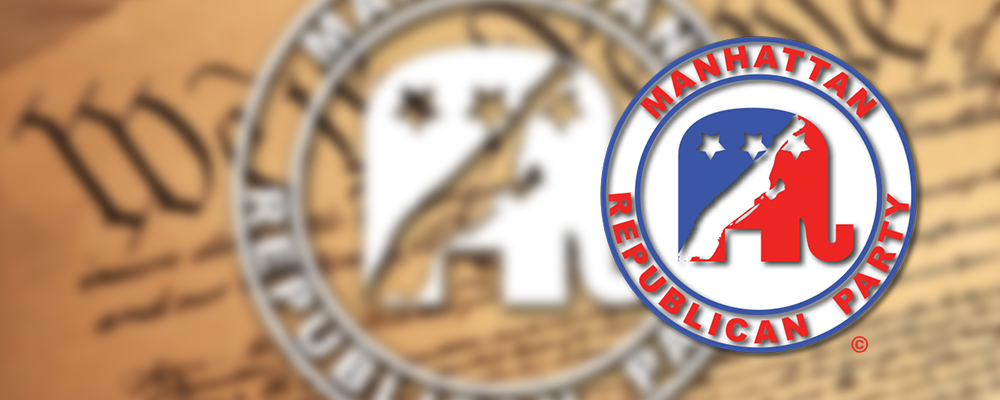 History of the Republican Party in Manhattan:
Despite the longstanding registration disparity of Republicans in Manhattan dating back to the days of the Democratic Party's powerful Tammany Hall political machine, there is a long and distinguished history of electing Republicans in Manhattan.
Legendary Republican elected officials such as Theodore Roosevelt, Fiorello LaGuardia, Frederic Coudert, Jr., Ruth Pratt, Jacob K. Javits, MacNeil Mitchell, Louis J. Lefkowitz, Stanley M. Isaacs, John Lindsay, Ted Kupferman, Whitney Seymour, Bill Green, Roy Goodman, John Ravitz, Charles Millard, and Andrew Eristoff all began their political careers by being elected to local legislative office as Republicans hailing from Manhattan.  In addition, Mayors Rudy Giuliani and Michael Bloomberg were able to win citywide office and Thomas E. Dewey won statewide directly as Republicans from Manhattan.
read more/less
Beginning with the election of Theodore Roosevelt to the New York State Assembly in 1881 (at 24, the youngest person elected to the NYS Assembly) to the election of Ruth Sears Baker Pratt to the US House of Representatives in 1928 (the first woman elected to the US Congress from New York State) and through the reelections of Roy Goodman to the State Senate and John Ravitz to the State Assembly in 2000 and Mayor Michael Bloomberg in 2009, Manhattan Republicans have often defied the odds and enjoyed notable success and distinguished records of public service.
The Manhattan Republican Party's Mission:
To promote a philosophy of government based on the Constitution and Bill of Rights of the United States, based on the principles of Freedom, Liberty, Equality, and Opportunity for all.  The Manhattan Republican Party strives to provide an infrastructure and a messaging platform that will support this philosophy and principles by getting involved in the political process .Our Executive Committee is the crucial mechanism to administer the Republican message at the grassroots neighborhood level . We have members from diverse backgrounds and from throughout the borough of Manhattan working together to get out the vote and elect Republicans. Our Manhattan Republican Party Executive Committee meets frequently & regularly, and Manhattan Republican Party members are responsible for voting on local party affairs, aiding in community outreach and the successful election of Republicans in local, county, state, and national elections.