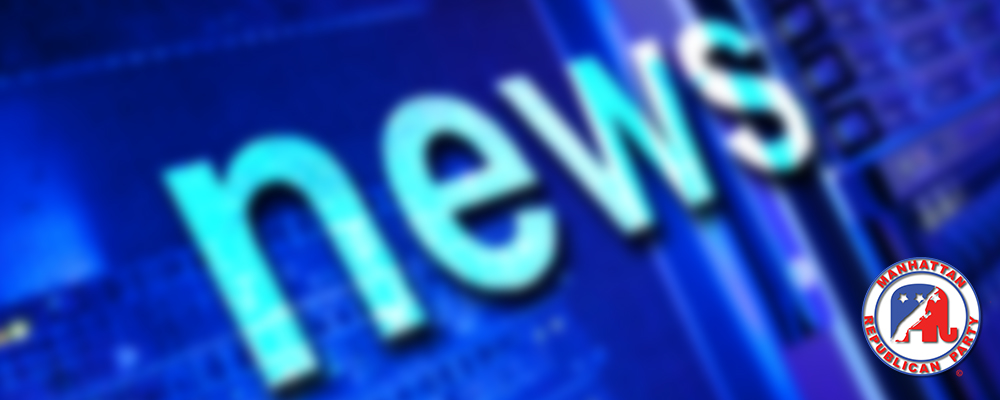 The Manhattan Republican Party is a non-profit organization that promotes and educates ALL Manhattanites about the principles & causes of the Republican Party.
Manhattan GOP Announces Slate of NYC City Council Candidates for November 2023
Posted on 23 February 2023
"New York City is at a breaking point," said New York County Republican Committee Chair Andrea Catsimatidis. "The radical left-wing policies of NYC Democrats have turned our city into a safe haven for criminals. Their disastrous bail reform law has unnecessarily claimed the lives of countless children. Women no longer feel safe on our subways, hate crimes are rampant, and hard working New Yorkers regularly fall victim to violent crime both day and night. This violent cycle ends now with electing Republicans to our city council. With control of the city's budget, our elected Republicans will refund the police and restore law and order to New York City. They will advocate for the rights of parents in their children's education. We are proud to endorse this strong slate of candidates who will bring real change to city hall and stand up for freedom, opportunity, and safety for all New Yorkers."
NYC City Council District 1: Helen Qiu
NYC City Council District 2: Juan Pagan
NYC City Council District 3: Robert Bobrick
NYC City Council District 4: Brian Robinson
NYC City Council District 5: Elizabeth Golluscio
NYC City Council District 6: Diane di Stasio


Andrea Catsimatidis Reelected Chairperson of Manhattan Republican Party
Posted on 28 September 2022
( read more/less )
On September 28, 2022 the Manhattan Republican Party reelected Andrea Catsimatidis Chairperson. She will also serve as Vice Chair to the New York State Republican Party, elected to head up the whole NYC region.
In her acceptance speech she said, " I am so thankful to have such an amazing and hardworking committee that shares my passion for our city. We have accomplished so much together! We are truly building our party from the ground up and have gained ground in EVERY district of Manhattan- vote totals and percentages. This is hard work, and frankly, a thankless job, because we work so hard for each and every vote at such a disadvantage- Manhattan is 8-1 Democrat! But here is where the work is most important. We cannot give up."
Catsimatidis continued, "The rest of the state is already red, we need just 30% of the vote out of NYC to flip New York and turn our entire state around. Everyone always says that NYC is a lost cause and that we should give up, but NYC is the key! This is a winnable fight, and we are putting in the work here in Manhattan."
She stressed that, "We have been on offense, not defense, on the front lines here in NYC by running fantastic candidates who love our city, by raising record breaking amounts of money to be able to run competitive races and build our party, by mobilizing effective GOTV using mail, text, calls, and commercials, by becoming more conspicuous- hosting events with incredible speakers, founding our Liberty Club, and raising issues on social media, by being on the streets handing out palm cards and talking to voters".
And she concluded with a request to all New Yorkers, "But we need all the help we can get! If you can donate time as a volunteer, if you can donate money, if you want to run for office, it all helps! Please help us promote safe streets, capitalism, freedom, and opportunity for all in our city and help us keep the American Dream alive!"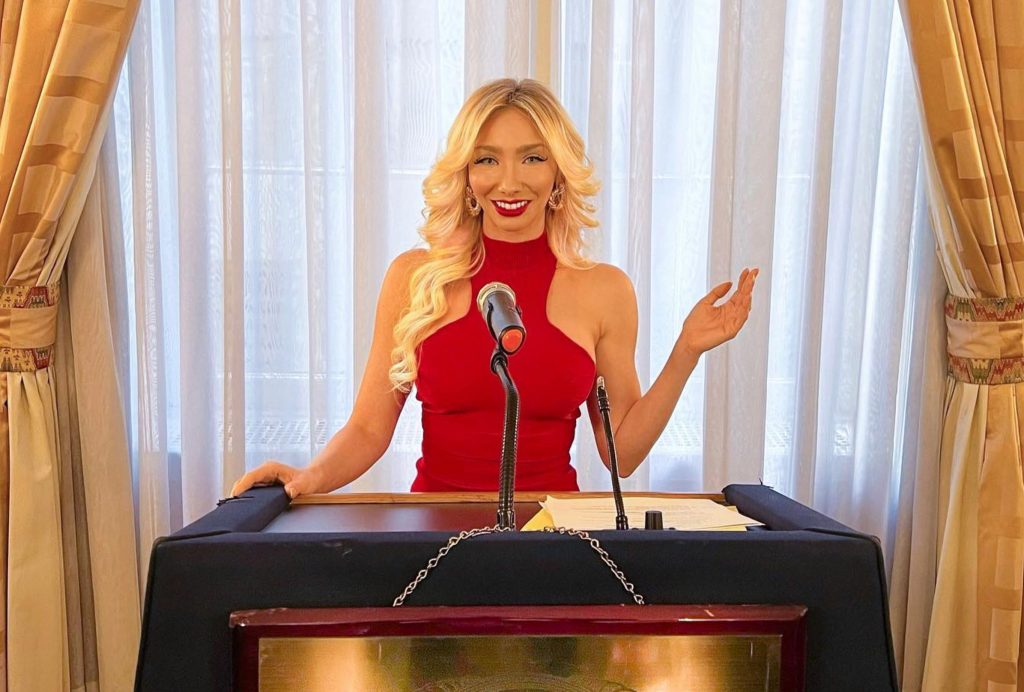 The Manhattan GOP supported our friends from the Queens GOP and it's new Chair Tony Nunziato at their gala this evening.
Posted on September 2022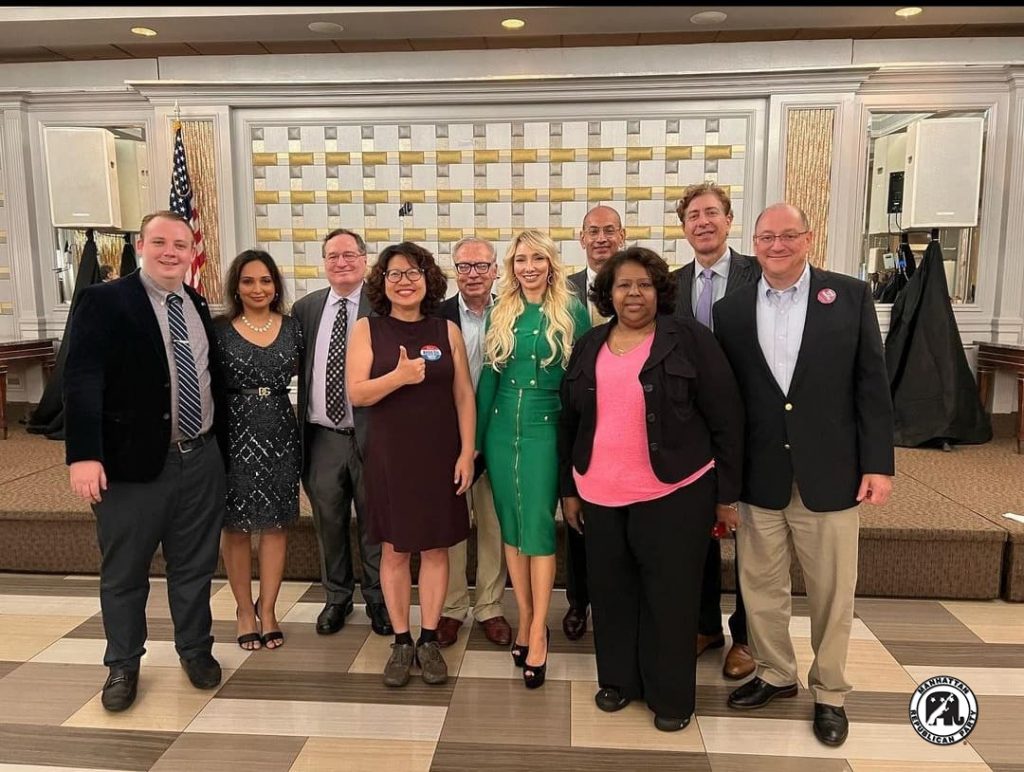 Thanks to everyone who came out to march with us on Sunday in the Dominican Day Parade
Posted on August 2022

Manhattan GOP Chairwoman and Candidates Call on de Blasio to Bring Law and Order to NYC
Posted on 30 Jun 2020
( read more/less )
Today Manhattan Republican Party Chairwoman Andrea Catsimatidis with candidates Lou Puliafito – 76 AD, Judy Graham – 73rd AD, Mike Zumbluskas -28 SD and Carlos Santiago-Cano – CD 12, called on Mayor de Blasio to bring law and order to the city.
Outside Gracie Mansion the Chairwoman said, "The blood that spilled around this city the past several weeks has been horrendous. The Democratic playbill of supporting dangerous policies like bail reform and decimalization are literally killing our people and our communities. Already this year murders in the city increased by 79%, Shootings went up 64%, and burglaries rose 34%."
"This year's murder count is on par with New York's murder total five years ago and is well below the elevated murder totals of the decades before that. Each night neighborhoods are being lit up with fireworks all night long. Just last week a young girl was hurt when a firework went through her bedroom window and a homeless man was cruelly set on fire while he was sleeping on a Harlem sidewalk by men filming and laughing as his body burned."
"We need to stand up to the lawlessness that is being allowed to take place in our city before it is too late. We need leadership in city hall that is not going to allow our police officers hands to be tied while they are out protecting our streets. It is possible for us to be a more just and fair society, while maintaining law and order. It is possible for us to learn from our past mistakes and fight against racial injustice while allowing our police the ability to keep our communities safe. We need to elect leaders who are not going to hide behind Gracie Mansion's gates while the city outside is burning. It's time to elect new leadership in Manhattan – leadership that supports law and order, prosperity, job creation and growth and humane treatment of our citizens and especially our homeless and mentally ill population. We cannot go back to the days of the rotting apple; the time is now to bring law and order back to our streets."
NY's highest court knocks lawmaker Rebecca Seawright off ballot over filing snafu
Posted on 22 May 2020
( read more/less )
NY's highest court knocks lawmaker Rebecca Seawright off ballot over filing snafu
By Carl Campanile
May 21, 2020 | 10:24pm | Updated
The state's highest court knocked three-term Upper East Side Assemblywoman Rebecca Seawright off the Democratic and Working Families ballot lines amid the coronavirus pandemic for failing to file cover sheets with her paperwork – opening the door for Republican candidate and residential doorman Louis Puliafito to secure the seat.
The Court of Appeals, in a 5 to 2 decision released Thursday, said the coronavirus pandemic could not be used an excuse from timely file cover sheets with her designating petitions to qualify for ballot status.
The decision reversed two lower court rulings that restored Seawright to the ballot in the 76th AD covering the Upper East Side, Yorkville and Roosevelt Island after she had been disqualified by the Board of Elections for the errors.
The elections agency said the Seawright campaign failed to timely file the cover sheet for the designation petition for the Democratic Party line and the acceptance sheet to accept the nomination of the Working Families Party.
"Applying the Election Law, we have repeatedly held that the failure to timely file required papers in connection with a designating petition, including a cover sheet or certificate of acceptance, is a `fatal defect that cannot be excused," the majority decision, which included Chief Judge Janet DiFiore said.
"Strict compliance with the Election Law, we have held, `reduces the likelihood of unequal enforcement,'" the judges said, adding, "notwithstanding a candidate's unique or extenuating circumstances."
Seawright said she was sick with a coronavirus-like viral infection during the petition filing period that was condensed to help contain the outbreak.
Associates Justice Jenny Rivera wrote one of the two dissenting opinions.
"The sole cause of the delay was the respondent's illness and quarantine….. the delayed filings here are not fatal defects warranting invalidation of the designating petitions. The legislature could not have intended to deny the right to ballot access under these circumstances," Rivera said.
Puliafito's camp applauded the ruling.
"One law applies to all candidates," said Puliafito's lawyer, Lawrence Mandelker.
But Seawright vowed the fight is not over and intends to run on an independent ballot line. Some political experts said she could still win if she secures ballot status.
The decision "will not be the last word," the assemblywoman said.
"We must assure freedom of choice for the voters of the Upper East Side, Yorkville, and Roosevelt Island. We are taking all necessary steps to avail ourselves of our legal right to run for re-election on an independent line," she said
"The Republican Party has thus far forced a Soviet Union-style election with a sole hand-picked candidate. We will continue to fight for ballot access so that the voters will have a choice this November."
Meanwhile the state's highest tribunal also booted veteran Bronx Assemblywoman Carmen Arroyo off the ballot after an opponent, Amanda Septimo, accused her of petition fraud. The decision reversed lower court rulings.
"The lower courts should have concluded that this is one of those rare instances in which the designating petition is so 'permeated' by fraud 'as a whole as to call for its invalidation,'" the judges said.
Arroyo was first elected to the Assembly in 1994.
Statement from Chairwoman Andrea Catsimatidis regarding 76th AD Decision
Posted on 08 May 2020
( read more/less )
Statement from Manhattan Republican Party Chairwoman Andrea Catsimatidis regarding 76th AD Decision
"This is a Democrat judge trying to appease her Party bosses. Not only is this outrageous and shocking but either undue influence or gross stupidity. We will get to the bottom of this terrible decision which is contrary to any applicable law. The people of the 76th district should be appalled by this decision and it should be investigated."
MANHATTAN REPUBLICAN PARTY CHAIR 'THRILLED' TO HAVE IVANKA TRUMP AND JARED KUSHNER REGISTERED AS REPUBLICANS IN NYC
Posted on 04 Mar 2020
( read more/less )
MANHATTAN REPUBLICAN PARTY CHAIR 'THRILLED' TO HAVE IVANKA TRUMP AND JARED KUSHNER REGISTERED AS REPUBLICANS IN NYC
BY EDDY RODRIGUEZ ON 3/3/20 AT 4:49 PM EST
NEWSWEEK
The Manhattan Republican Party chair has welcomed White House senior advisor Jared Kushner and his wife Ivanka Trump, daughter and senior advisor to President Donald Trump, to the party after the first daughter said she is now a "proud Trump Republican."
"I am thrilled to welcome Ivanka and Jared into our vibrant Manhattan Republican Party. I am a huge fan of our great President and having two more of his family members in our party will energize our base even more as we continue to grow our party in Manhattan," Andrea Catsimatidis Chair of the Manhattan Republican Party told Newsweek on Monday.
The couple had been registered Democrats for years and have previously donated to Democratic candidates in their home state of New York. The first daughter registered with the New York City Board of Elections as a Republican before the 2018 midterm elections.
With Ivanka Trump and Kushner's official Republican status, all of the president's children, with the exception of 13-year-old Barron, are now registered Republicans.
"I am a proud Trump Republican," the first daughter told the New York Times Monday. "I believe he's broadened the reach of the Republican Party, which is really important to me."
In December, Kushner told reporters, "I was not a Republican. Now I'm a Republican. I think the Republican Party is growing now that people like me feel comfortable being part of it."
Trump told the Times that she tends to "agree more with the more conservative viewpoint more often than where the Democrats are today," adding "no one person or party has a monopoly on good ideas."
Trump made few appearances on her father's behalf during the 2016 presidential election. Things have changed this time around. With the president's 2020 re-election campaign in full swing, Trump is scheduled to appear at fundraising events for her father in Oklahoma, Texas, Florida and New York.
She told the Times that she "prided herself on being able to raise more money during a one-hour breakfast meeting than the top-tier Democratic presidential candidates." In Houston, Trump reportedly raised $2 million in 45 minutes. She called the feat "record-shattering."
In a recent appearance at CPAC, Trump touted her father's accomplishments, including strides made to assist women in the work force. "Of all the new jobs added [last year], 72 percent of them went to women," Trump said. "Average wages increased by [3.1] percent for women in this administration versus a little under 2 percent at the expansion period of the previous administration. So women are winning."
Trump recently praised Kushner for playing an active role in America's criminal justice reform. At a graduation ceremony on February 20 hosted by Hope for Prisoners, a program aimed at aiding ex-convicts to reenter the workforce, Trump called his senior adviser "the father of criminal justice reform."
"Thank you, Jared. He never wants any credit. He does a lot. He works hard. But that's working out very well," the president said at the event in Las Vegas.
Update 6:03 p.m. ET.
CURTIS SLIWA OFFICIALLY RE-JOINS THE REPUBLICAN PARTY
Posted on 12 Feb 2020
( read more/less )
CURTIS SLIWA OFFICIALLY RE-JOINS THE REPUBLICAN PARTY
Yesterday, Reform Party Chairman Curtis Sliwa and other members of the Reform Party Executive Committee, formally changed their party registrations to Republican. Curtis Sliwa addressed members of the Manhattan GOP Executive Committee on Tuesday evening explaining his view of how this new Urban Reform GOP Coalition can work to enact change in Manhattan.
"Deblasio recently said in his state of the city address that he wants to SAVE OUR CITY after spending his 6 years in office destroying it," said Sliwa. "Having failed to help the homeless, emotionally disturbed people and NYCHA residents he is without any ideas to rectify this. Crime is up, affordable housing is down, and bail reform is a disaster. His contribution – offer the accused a SWAG BAG of goodies at taxpayer's expense and hope that they show up for their court dates. He has been MIA and abandoned his daily responsibilities long ago. We will bring solutions involving self-help to correct these growing problems on de Blasio's watch. Former members of the Reform Party will work with the Manhattan GOP to elect new leadership citywide, in Albany and in Washington DC."
"I welcome Curtis Sliwa and other members of the Reform Party to the Republican Party," said Manhattan GOP Chairwoman Andrea Catsimatidis. "This new coalition comes at the right time when we are running a great slate of diverse candidates who are going to fight back against Bail Reform laws that are allowing criminals back out on the street, fighting quality of life issues that are driving people out of our neighborhoods and a failed education system that is unfairly treating our children."
Manhattan GOP Chair Andrea Catsimatidis and New York State Republican Chairman Nick Langworthy Blast Rep. Nadler on Partisan Hearings Costing Taxpayers Millions
Posted on 04 Dec 2019
( read more/less )
Needless Rep. Jerry Nadler continues to waste taxpayer dollars on this partisan impeachment witch-hunt rather than deal with issues that Americans care about
New York–December 4…Manhattan Republican Party Chairwoman Andrea Catsimatidis and New York Republican Chairman Nick Langworthy today blasted "needless" Congressman Jerry Nadler for spending millions of taxpayer dollars on partisan, rigged investigations to try and remove President Trump from office.
Nadler's round sham hearings will call partisan witnesses who have been calling for impeachment for several years or have long histories of anti-Trump bias. Public support for impeachment has dropped since Democrats began their hearings.
"Instead of paying attention to issues that people actually care about, such as the affordable housing crisis, the deplorable public transportation system or passing the USMCA, Rep. Nadler is grandstanding on the impeachment witch hunt for his own personal gain," said Manhattan GOP Chairwoman Andrea Catsimatidis. "It's time to send Jerry Nadler a message that he's a needless Congressman who should be replaced with somebody who actually cares about the district. There shouldn't be another dollar or another minute wasted on this sham."
"The do-nothing Democrats in Congress have been obsessed with removing our duly-elected President from office because their disastrous 2020 candidates have no plan to beat him at the ballot box," said NYGOP Chairman Nick Langworthy. "While President Trump is overseas fighting for America on NATO, ISIS and trade, Jerry Nadler is continuing the impeachment charade at the expense of working on important issues like passing the USMCA. Democrats lost support from Americans after the first round with Shifty Schiff, yet their Trump Derangement Syndrome has them continuing to dig their own grave."
###
Andrea Catsimatidis Re-Elected Chairwoman of the Manhattan GOP
Posted on 19 Sep 2019
( read more/less )
Yesterday the New York Republican County/Manhattan Republican Party Committee unanimously re-elected Andrea Catsimatidis as Chairwoman of the President's home county.
"I am honored to serve another term as Chairwoman of the Manhattan Republican Party.  We have an important election year upon us and I will work tirelessly  to run strong candidates here in Manhattan. President Trump delivered on his promises of economic prosperity and the choice in 2020 will be clear! Manhattan Republicans are energized to help our President win and elect candidates who will bring sound government back to New York City."